Hair Coloring For Women
In the realm of beauty and personal expression, one undeniable truth persists: your hair can be your most valuable attribute. It possesses the ability to define your unique identity, elevate your self-assurance, and create a lasting impact. This is precisely where the art of hair coloring takes center stage. At Ashtamudi Wellness, we grasp the importance of hair coloring for women. Our team of experts is wholly committed to delivering exceptional hair coloring services that will not only revolutionize your look but also leave you feeling confident and radiant.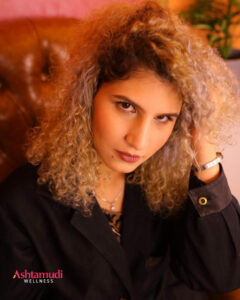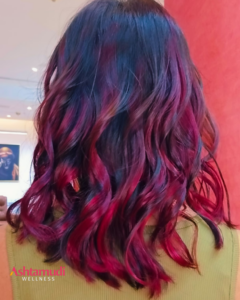 The Power of Hair Coloring
Hair color serves as an incredibly potent tool capable of completely transforming your appearance, enhancing your natural features, and expressing your distinct personality. Whether you're inclined towards embracing a striking new shade or simply wish to add depth to your current color, our salon stands as your ultimate destination for all your hair coloring needs. Here are the compelling reasons why you should consider our services:
Tailored Consultations: When it comes to hair coloring, there is no one-size-fits-all approach. Our seasoned stylists invest time in comprehending your vision, assessing your skin tone, and understanding your lifestyle to recommend the perfect hair color that harmonizes with your unique individuality. We prioritize personalization to ensure that you depart from our salon with a color that accentuates your distinct style.
Expertise and Mastery: Our team comprises highly skilled professionals who continually stay abreast of the latest trends and cutting-edge techniques in the realm of hair coloring. Whether you seek a timeless look or aspire to experiment with the latest color innovations, we possess the expertise to bring your vision to life.
Top-tier Products: We exclusively employ premium, salon-grade hair color products that not only deliver stunning results but also prioritize the well-being and resilience of your hair. Our unwavering commitment to quality ensures that your hair retains its vibrancy and health, even after the coloring process.
Some Frequently Asked Questions
Should I color my hair myself or visit a professional?
When utilizing a permanent hair color, it becomes imperative to utilize hydrogen peroxide (developer) as an essential component to elevate the hair. This process effectively raises or opens the cuticle layer of the hair, facilitating the infiltration of color molecules into the cortex, ultimately depositing the desired color. However, it is crucial to note that if this process is not executed correctly, it carries the potential to harm the hair. Such damage may arise if an incorrect peroxide level is chosen or if hair color alterations are frequent, leading to over-processing.
On the flip side, opting for semi-permanent or demi-permanent colors can impart a lustrous sheen to the hair while promoting its overall condition. It's important to acknowledge that the effects of these coloring methods are transient, typically lasting only through a few shampoo cycles. For a more in-depth exploration of how hair color can impact your hair, we encourage you to refer to our comprehensive article, 'Does Hair Color Cause Hair Damage?
What's the difference between Semi-Permanent, Demi-Permanent, and Permanent hair coloring?
Semi-permanent hair coloring, distinguished by its absence of peroxide, is primarily designed for darkening hair rather than lightening it. Typically, the color gradually fades after around six to twelve shampoo cycles because it only imparts color to the outermost layer of the hair. This option proves wise if you're uncertain about your desired color and seek a temporary solution. Furthermore, semi-permanent color not only adds shine to your hair but also improves its overall condition since it doesn't involve the lifting of the hair's pigment.
On the other hand, demi-permanent hair coloring incorporates a minimal amount of peroxide, setting it apart from semi-permanent alternatives and allowing for a subtle lightening effect. It deposits color between the hair's cuticle and cortex, resulting in a more enduring effect that typically lasts between 12 to 26 washes.
Permanent hair coloring, as the name suggests, provides a long-lasting solution that remains until the colored strands naturally grow out. It possesses the capacity to lighten hair by up to 4 levels, although it's important to note that exceeding this limit is discouraged due to the potential risk of causing damage to the hair.
How often should we shampoo my hair after receiving a coloring services?
After your hair coloring service, it is advisable to refrain from shampooing your hair for a minimum of 24 hours. If you can extend this waiting period to 48 hours, it is even more beneficial. To maintain the vibrancy and longevity of your color, it's recommended to limit your hair washing routine to a maximum of three times a week, especially if you've chosen a bold and vibrant color like red. This approach helps preserve the intensity of your hair color and allows it to settle and adhere better to your hair.
How long do we wait before re-coloring with a different color?
The appropriateness of these guidelines can vary depending on the current condition of your hair. It is advisable to have a conversation with your hairstylist to determine the most suitable course of action. If your hair is damaged, it may be better to postpone any hair coloring until your hair is in better condition or until the existing color naturally fades. Additionally, if you are dissatisfied with your current hair color, it's worth discussing the option of a color correction service with your stylist. They can assess your specific situation and provide recommendations tailored to your hair's needs and your desired outcome.
Can we do Color and Highlights all on same day?
Yes, as long as your hair is in good condition, you can get a color service and highlights all on the same day.
Our Range of Services
At Ashtamudi Wellness, we offer a wide range of hair colouring services tailored to meet the diverse needs and preferences of our clients:
Single Process Color: If you're looking to cover gray hair, refresh your current color, or go a few shades darker or lighter, our single process color services are a fantastic option.
Highlights and Lowlights: Add depth, dimension, and a touch of glamour to your hair with our expertly applied highlights and lowlights. These techniques are perfect for creating a sun-kissed or multidimensional effect.
Balayage and Ombre: Embrace the beauty of gradual color transitions with our balayage and ombre services. These techniques create a natural, lived-in look that's both low-maintenance and high-fashion.
Fashion Colors: Want to make a bold statement? Our fashion color services allow you to experiment with vibrant, unconventional hues that reflect your personality and style.
Color Correction: If you've experienced a hair color mishap or simply want to change your existing color, our color correction services can help you achieve the desired results safely and effectively.
Custom Blending: Our stylists are skilled in custom blending to create unique shades that are tailor-made for you. Say goodbye to cookie-cutter hair color and hello to a one-of-a-kind look.
Visit our website www.ashtamudi.ae
Visit our Instagram Page – @AshtamudiWellness
Ashtamudi Wellness Ladies Beauty Salon
In the realm of self-expression and personal style, the art of hair coloring plays a pivotal and transformative role. It serves as a potent tool that allows you to enhance your natural beauty and convey your unique personality. At Ashtamudi Wellness, we take immense pride in offering women top-notch hair coloring services. Our approach includes personalized consultations, a team of expert stylists, and a diverse range of services, all of which are dedicated to helping you realize the hair color of your dreams.
Why settle for the ordinary when you can embrace the extraordinary through hair coloring? We invite you to visit Ashtamudi Wellness today and immerse yourself in the remarkable transformation that expert hair coloring can bring to your life. Elevate your appearance, boost your self-confidence, and let your hair become the masterpiece that truly defines you.
BOOK YOUR APPOINTMENTS NOW – Click Here