Henna
Whether you are looking to adorn your hands and feet for a wedding, engagement, festival, or any other special event, our henna designing services will ensure you stand out with stunning designs. We offer a wide range of henna patterns, from traditional and classic motifs to contemporary and modern designs, allowing you to choose the style that resonates with you the most.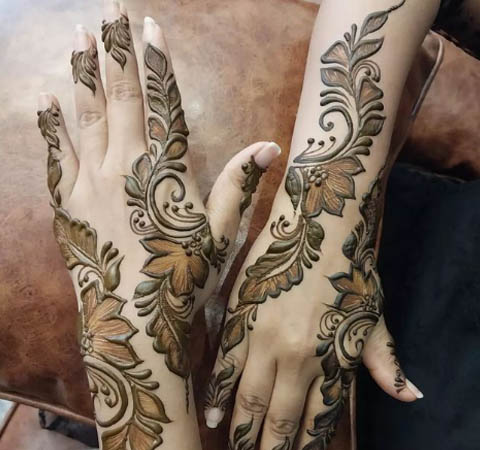 Using only premium-quality henna paste, our artists ensure that the color of your henna design develops beautifully, leaving a rich, long-lasting stain. We prioritize hygiene and safety, adhering to strict cleanliness standards and using safe and natural ingredients to protect the health of our clients.
Our team of highly skilled henna artists is passionate about their craft and dedicated to delivering exceptional results. With their extensive knowledge and experience, they can create intricate and exquisite henna designs that are tailored to suit your preferences and the occasion at hand.
Contact us today to book an appointment or discuss your henna designing needs. Let us enhance your special moments with the beauty and elegance of henna artistry.
Book an Appointment
Get a fresh, natural look that enhances your best features with our everyday services. We ensure to provide the best possible experience and accommodate your needs.